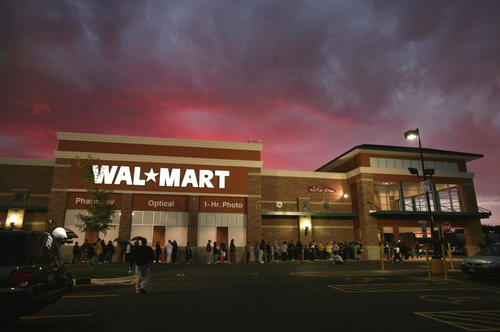 A series of unprecedented strikes and walk-outs by Wal-Mart workers is expected to culminate in up to a thousand labor actions this week during Black Friday sales.
Although the majority of strikes have yet to occur, these historic protests are already making an impact on the way the company responds to public pressure.
If you go to the corporation's main public relations Twitter account, @WalmartNewsroom, you'll find a flurry of tweets from yesterday defending the company against labor criticism:
Here's what makes this even more interesting. I used the Twitter search services Snap Bird and Socialsearching.info to search for the word "union" among the Wal-Mart account's 1,361 tweets. The word only appeared once — yesterday, in the series of tweets seen above. Walk-outs by brave Wal-Mart workers have for the first time forced the company to publicly acknowledge unions on Twitter.
This is a small victory, but likely a sign of victories to come. Click here to find an upcoming Wal-Mart strike or protest near you. The more people who attend these events this week, the greater the chance we have of forcing Wal-Mart to treat its workers better.
---
Join the bold progressive movement,

771,000

members strong!