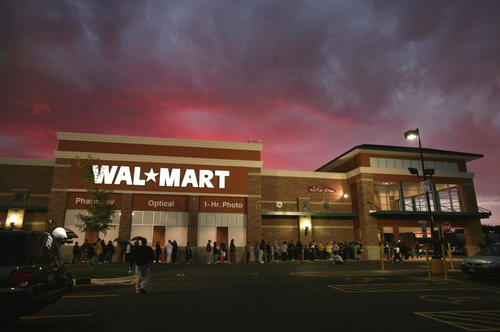 In one week, Wal-Mart workers in as many as a thousand stores plan to hold protests walk-outs and other actions to disrupt the company's busiest shopping day: Black Friday. These workers are fed up of low wages and the high level of intimidation that the company has been using against those who dare to organize.
Late yesterday, Wal-Mart filed an "unfair labor practice charge" against the main union helping organize workers to take labor actions:
Wal-Mart late on Thursday filed an unfair labor practice charge against the United Food and Commercial Workers International Union, or UFCW, asking the National Labor Relations Board to halt what the retailer says are unlawful attempts to disrupt its business.
"Walmart is grasping at straws," replied UFCW Communications Director Jill Cashen. "There's nothing in the law that gives an employer the right to silence workers and citizens."
Needless to say, it is the height of irony for Wal-Mart to allege unfair labor practices. This is the company, after all, that shut down entire stores because workers unionized.
We'll continue to keep you up to date on the upcoming Wal-Mart labor actions. Here's a full list of Wal-Mart stores where protests and walk-outs are planned next week.